…where does one start when planning a church website?
Today I am launching a series of articles for churches on the topic of church websites. Have you grappled with how to start, develop and maintain a good church website? Have you learned some great secrets that you would be willing to share? I hope to add a number of articles in the future that will provide resources that specifically address the needs of churches in relation to their use of the internet. I may not write all the articles but rather will try to develop a network of people, web-links and other resources that can provide the kind of help needed – particularly for churches.
In this article I am starting with some fundamentals. In order to have a website you need three basic pieces of the internet and website puzzle.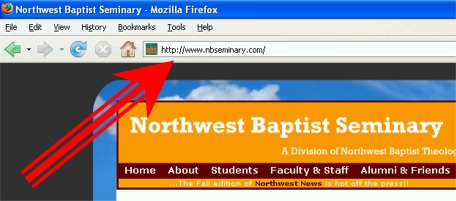 1. The first piece you need is to own the "domain name" that you will use for your website. The domain name is the address that you type into your internet browser that takes you to a particular website. The domain name that Northwest owns and uses is nbseminary.com. When you type www.nbseminary.com into the address bar of your internet browser it opens to the Northwest website for you to browse. So an example of a domain name for you might be www.yourchurchname.com.
A domain name is purchased from a domain name registrar and is paid for (usually) on an annual basis. Domain names cost anywhere from $8.75 per year to $34.99 per year depending on the registrar and what they offer beside the domain name registration. On the more expensive end of the range would be a company like www.networksolutions.com and on the cheaper end would be a company like www.mydomain.com – with many in between and a few cheaper and a few more expensive.
You need a "place" to locate your website so that it can be accessed from the internet any time of day or night – a web host.
2. The second piece of the puzzle that you need is a "place" to locate your website so that it can be accessed from the internet any time of day or night. This "place" is usually provided by a web hosting company. For a monthly fee these companies will "host" your website on their web server computers and make sure that your website is both secure and always accessible from the internet. Hosting fees can range from as low as several dollars a month to several dozens of dollars a month – again depending on the services provided. Most church web sites do not need anything more than a basic or basic to mid-range hosting plan.
3. The third piece of the puzzle that you need for your church website is the development of the website itself – i.e. the computer files that hold all the information you want to present about your church. For the basic website these files can be understood in two broad categories. There will be the actual web pages themselves – i.e. what you are reading right now, and there will be the graphic elements of the site. That includes the overall site design, photos, video clips etc. Site designs usually incorporate a top section called a header that identifies who this site is about, the body of the site which holds the information, and finally there usually is a bottom part – called a footer where one might place a copyright notice, some links to important sections of the website and so on.
– What should a church put on their website?
– Who is going to be responsible for the website?
– What sort of time commitment might be required by a website?
One other element the site will need is some sort of mechanism to navigate from one page to another. Links that do this navigation are often found either in a menu bar across the top of the site or on the side of the site in what is called a sidebar.
I will write more about each of these pieces of the puzzle in future articles. Here are some other questions I would like to address in future articles. Where does one start when thinking about a website? What does one need to create a website? Can just anyone do this or is purely the realm of the specialists – the geeks? What makes a good church website? Is there special software that I need? Are there people who can help me?
I am sure you have your own questions. Why don't you add a comment to this page? Do you have a particular question that we could address in a future article? Do you have some special solutions your church has discovered? Write and let me know.