The Power Distance Contrast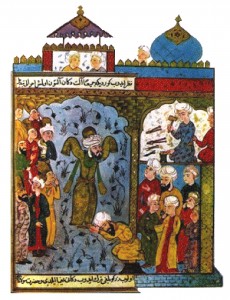 In Pakistan there is a strong tradition of "holy men" who are called Pirs. One day I had a visit from a young man who informed me that he was the Pir of his village. I was puzzled by this because he was dressed in modern clothes and did not have the religious, spiritual air one would expect from a revered holy man. He explained that in the tradition of his tribe, the honor and authority of the Pir was passed on from father to son and his father had recently passed away. For his part, he did not believe that he was able to give blessings to people, nor that his prayers were especially efficacious. In fact, when his father died and the mantle was passed on to him, he tried to refuse it. He told the people that he didn't believe and that he didn't want the responsibility. They replied, "It does not matter what you believe. You are the one chosen for this position and no other."
HPD = High Power Distance
Pakistan is a High Power Distance culture (HPD). It is the role and status of the leader, rather than his or her particular character or ability that is of greatest concern. In this context a high priority is given to maintaining harmonious relationships and affirming the historical traditions and social structures. Rules of conduct are paramount, and anyone who does not function within that protocol is ostracized, no matter how reasonable or beneficial their proposals might be. In HPD cultures, it is assumed that the status quo is the way life is intended to be; the established hierarchy is ordained, competition is bad, and conformity to tradition and roles is good.
LPD = Low Power Distance
Canada, on the other hand, is a Low Power Distance culture (LPD). Titles and status mean little if the person in charge cannot fulfill their responsibilities. Harmonious relationships may be sacrificed in order to pursue a particular goal and the measurement of success is accomplishment. In LPD cultures, it is assumed that reversal of fortunes is a part of life, competition is good and no one has ordained or fated priority.
When I was doing my master's thesis on Chronological Bible Storying among the Sindhi people on the story of the washing of the disciples' feet (John 13), one aspect that the Sindhis who were interviewed emphasized over and over again was the importance of the disciple to always obey the teacher. They were appalled at Peter's audacity when he refused to let Jesus wash his feet, and they found Jesus' stern response, "You will not have any part of me," to be necessary and appropriate. HPD cultures, like Pakistan, consider the student insubordinate and rude who would question or contradict a teacher. Rote learning is the preferred method of learning as it emphasizes the teacher's status above the student. In contrast, a teacher in a LPD culture like Canada encourages the student to challenge and question. Ideas and the stimulation of the mind are of first importance.
Due to Power Distance, leadership within a LPD context will function differently than within HPD groups. Awareness of this dynamic in interpersonal relationships along with appropriate adjustments can greatly reduce tension in multicultural churches.