It has been interesting for me to think about spiritual formation from a different perspective spending these days in Rome. I suppose that when I arrived here I was prepared for the Coliseum, the Forum and all the vestiges of Imperial Rome. I was less prepared for the influence of the Roman Catholic experience. It has been interesting to ride buses and walk the streets in close proximity with nuns, monks, and priests. Yesterday, my wife and I entered at least eight different cathedrals, all stunning in their beauty and complexity. Today we walked down Catherine of Sienna street. A few impressions…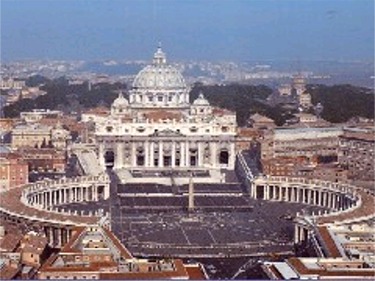 On Saturday we managed to get tickets (free – but nonetheless rare) for the Pascal Vigil which is a three-hour service beginning at 10pm. This was pre-resurrection worship in anticipation of what would happen the following morning. We sat a few dozen feet from the alter inside the vast St. Peter's Basilica, the very seat of Roman Pontifical power, and just a few dozen feet from the Pope himself. Once we were able to get past the stunning beauty and scale of our surroundings, we were able to settle in and try to understand what was happening. Given that about 90% of the proceedings were either in Latin or Italian, this was difficult. Still, we were able to sense something of the wonder that Catholics bring to the experience of celebrating the death and resurrection of our Lord. I remembered how just a few days earlier, I had led communion in a small evangelical Baptist church in Hope, BC. It seemed worlds apart. While I loved the sincerity and meaning of that small protestant service, I found myself feeling that our celebration was a little weak in comparison to all the drama we experienced at St. Peter's. Karen and I did not go forward to receive the mass, perhaps in solidarity with our free church reformation protestant forebears who would have been aghast that we were there at all. I've got some huge issues with the Catholic church. The veneration of Mary, prayers for the dead, and the general misuse of money and power so in evidence throughout this city, leave me cold. Still, these people love Jesus. This afternoon we looked at paintings by Raphael and Caravaggio, not to mention Michelangelo's magnificent ceiling in the Sistine Chapel. I want to tell you that it was as much a worship experience as a tourist experience for me. Yesterday, we visited the catacombs and thought about the tremendous faith practiced by the early Roman Christians. We visited the prison where Peter and Paul were incarcerated and stood inside a cell that may very well have been their own. I was deeply moved to think about how our faith is not some mythological story about gods that never actually lived. Our faith is rooted in real history and it has changed the world.
In the afternoon we stumbled across a chapel in the Lateran section of town where was housed the Scala Sancta. Tradition holds that these were the actual stairs that Jesus used when he climbed to meet with Pilate to be judged. The stairs were said to have been brought to Rome by Constantine's mother, Helena. While this cannot be proved, the possibility is plausible as these were real people and real places. Whether or not the stairs really were as reputed, I was moved by the devotion of people who climb the stairs one by one on their knees. The sides of the staircase are adorned with frescoes (mural paintings) depicting the passion of Christ. I watched these people kneeling on each step individually to think about the pictures and to offer prayer to God. Say what you will about the possibility of their superstition, but rightly directed I could see how this could be a powerful worship experience. I guess I was too Baptist to participate, but I did pause to thank my God for his sacrifice for me. On Easter Sunday morning we stood in St. Peter's square (it's actually round) with at least 100,000 of our closest friends. The Pope's sermon (what we could gather of it) spoke about resurrection and hope. He denounced terrorism and the war in the middle east. I'll never be a Roman Catholic, but standing in that place filled with hopeful people, seeing people wave their flags from every corner of the world (including more than a few Canadian flags), I thought about the old Sunday school song we used to sing… "Red and yellow, black and white. All are precious in his sight."