Northwest Baptist Seminary exists to prepare effective ministry leaders in context
for service to churches and agencies in the Fellowship and beyond.
We accomplish this primarily through our leadership development work among the Fellowship of Evangelical Baptist Churches, an indigenous, Canadian group of conservative Baptist churches numbering around 500. The Fellowship forms the second largest group of Baptist churches in Canada, with an estimated membership of 75,000. Steven Jones is our national president. A strong vision for church planting and international missions fuels our growth. Our history as a movement emerges initially in the 1920's.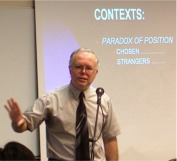 Northwest was founded in the mid-30's and has been part of Fellowship history since that time.
Northwest Baptist Seminary equips ministry leaders for Fellowship Baptist churches and agencies located primarily in Western Canada. Direct accountability to these churches comes through the election of the Board of Governors at annual conventions of these churches. Prayer and financial support comes from these churches and individuals to assist Northwest in fulfilling its mission and vision. Our primary mission is to help these churches impact their community, by nurturing and equipping healthy, effective ministry leaders.
Nationally the Fellowship annually requires between 75 – 100 new ministry leaders to plant new churches, support missionary work, maintain chaplaincies, replace retiring church leaders, lead camps, provide youth pastors, and other significant roles. Northwest's goal is to provide at least half of the ministry leadership requirements for our Fellowship churches. To this end we seek to provide significant financial aid to assist Fellowship Baptist members to pursue vocational ministry training.
We offer several creative ministry equipping programs. Our Immerse masters degree offers church-based pastoral leadership development. Our seminary-based degrees in Christian Studies, Divinity, and Theology offer majors from apologetics to children's ministry to chaplaincy and more. Whether you serve in vocational ministry leadership or volunteer within your local church, we want to assist you in fulfilling God's calling in your life.