Northwest Baptist Seminary is the official theological education and leadership development agency of the Fellowship of Evangelical Baptist Churches of British Columbia, Alberta, Saskatchewan, the Yukon, and the Territories. Our history includes two different colleges, three different names and four different locations.
Our story begins in Calgary in 1934 with Western Baptist Bible College under the auspices of the Regular Baptist Missionary Fellowship of the Prairie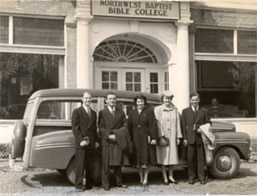 Provinces. A primary motive was to retain young ministry leaders in this region of Canada. Often when individuals left the region for ministry education they would not return.
Rev. Morley Hall was the founder and Rev. George Dawe became its first principal. This school was located at Westbourne Baptist Church, Calgary, Alberta and operated there until 1939. At that time many of the young men who would have come to study were, instead, sent to Europe to fight in the Second World War.
In 1945, at the end of the war, the leaders in British Columbia and the Prairies Provinces decided to open a college in Port Coquitlam, British Columbia. Dr. J. B. Rowell served as president and he was succeeded in 1946 by Rev. George Dawe. This college was given the name, Northwest Baptist Bible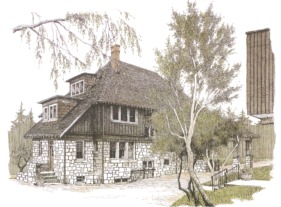 College. In 1953 the College was reorganized and Rev. J. H. Pickford became the Dean. We relocated in 1958 to southeast Marine Drive in Vancouver. In 1959 the College received its charter from the government of British Columbia, allowing it to grant all theological degrees. The College changed its name to Northwest Baptist Theological College.
In 1972 Dr. J. H. Pickford retired and Dr. Howard Andersen was appointed to be the Dean. Several years later the position of Dean was changed to President.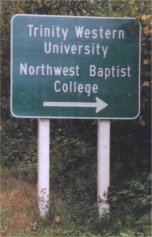 The College in Vancouver usually had several students who were working on graduate degrees such as the M.Div. (which at that time was designated as the B.D.) and M.Th. In 1976 the graduate division officially became a distinctive seminary unit. Dr. Don Carson served as our first Seminary Dean.
Rev. Douglas Harris became the president in 1980, a post which he held until 1995.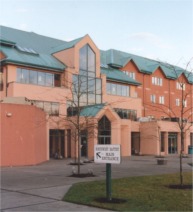 In 1987 the leaders of the Seminary and the Fellowship joined together with two other seminaries – Canadian Baptist Seminary and Trinity Western Seminary – to form a consortium which was named the Associated Canadian Theological Schools, known as ACTS Seminaries. Today ACTS Seminaries has five members, including Mennonite Brethren Biblical Seminary and Canadian Pentecostal Seminary. In 1989 Northwest Baptist Seminary relocated to the campus of Trinity Western University. Larry McCullough served as president from 1996-1999.
After a major reorganization in 1999-2000, Dr. Larry Perkins was appointed President. Northwest sold its property to Trinity Western University and now leases facilities with other ACTS members in the Fosmark Centre, Trinity Western University. Since 2010, Dr. Kent Anderson has served as our president. Northwest remains an independent, self-governing seminary, but works collaboratively with the other seminary members in ACTS as the Graduate School of Theology of Trinity Western University. The consortium is accredited by the Commission on Accrediting of the Association of Theological Schools (ATS) .
During these years more than 3,000 alumni have graduated and served Christ's kingdom.